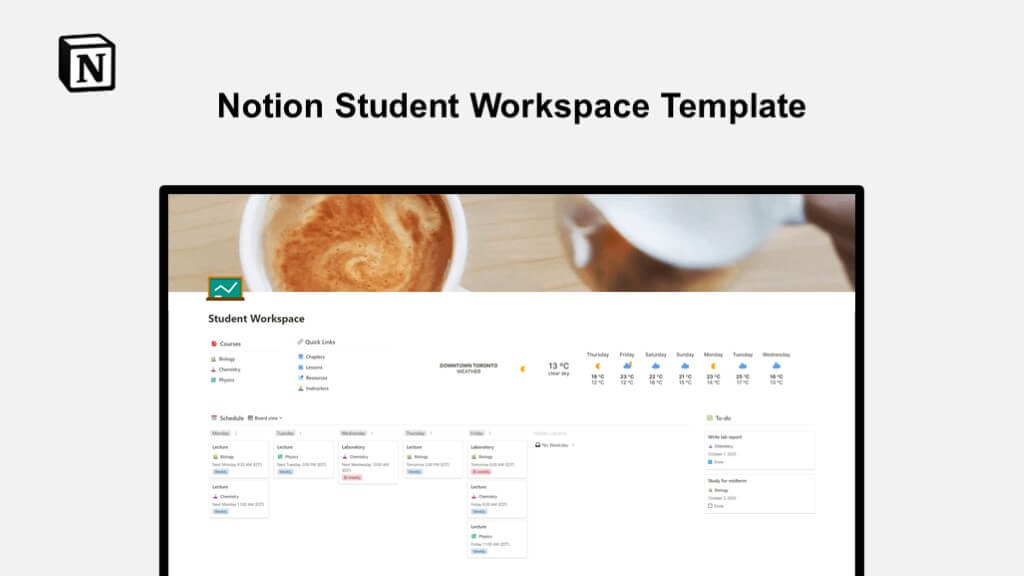 Notion Student Workspace Template, design by Luisa. It contains 5 unique database to track your life.
Schedule – Based on the Recurring Events & Tasks template, this database will keep track of every school-related event. It is particularly useful for events that are recurring such as lectures, midterms, seminars, etc. The frequencies supported include Daily, Weekly, Bi-weekly, and Monthly. If you'd prefer an event to not be recurrent, then simply leave the Frequency property blank. Note: The Weekday property is only used for the Board View, so you can remove it if you prefer other types of displays.
To-do – Your list of pending tasks, of course. Aside from being linked to your courses, you will also be able to have sub-tasks and super-tasks in here.
Instructors – In this database you can keep track of yours instructor's e-mail address, office, faculty, and other courses they may be teaching.
Resources – A collection of resources provided by your instructor or that you may have found on your own. These can also be linked to one or more courses.
Courses – The courses table is where everything comes together. All pages above are connected to a course.