If I ask you which is the most popular note-taking software in the world today, the first one must be Notion in your mind. Yes, Notion has become one of the most popular SaaS services in the world. It is widely used by many companies and organizations like Nike, SAMSUNG, IBM. It is not only a note-taking app. It is a powerful tool to help you write, plan, or organize your mind. You can mold Notion any way you want to build the documents, tools, and systems you need.
Notion Template is an amazing feature of Notion, it allows you to duplicate a page from other people, you just need one click so you can make it your own, that's an easy thing for most of us, and it is very quick and useful.
Now it has many Notion templates you can use, from finance track, to make a plan, or manage your reading list or subscription. As a student (high school student or college student), it is the best choice to manage your school life with Notion, not only because Notion offers a free plan for personal, but also it can help to manage your school life efficiently. We collect some Best Aesthetic Notion Templates for Students to improve your life, all of them are aesthetic, and we believe these Notion templates will help you a lot.
Best Aesthetic Notion Templates for Students
# Notion Student Workspace Template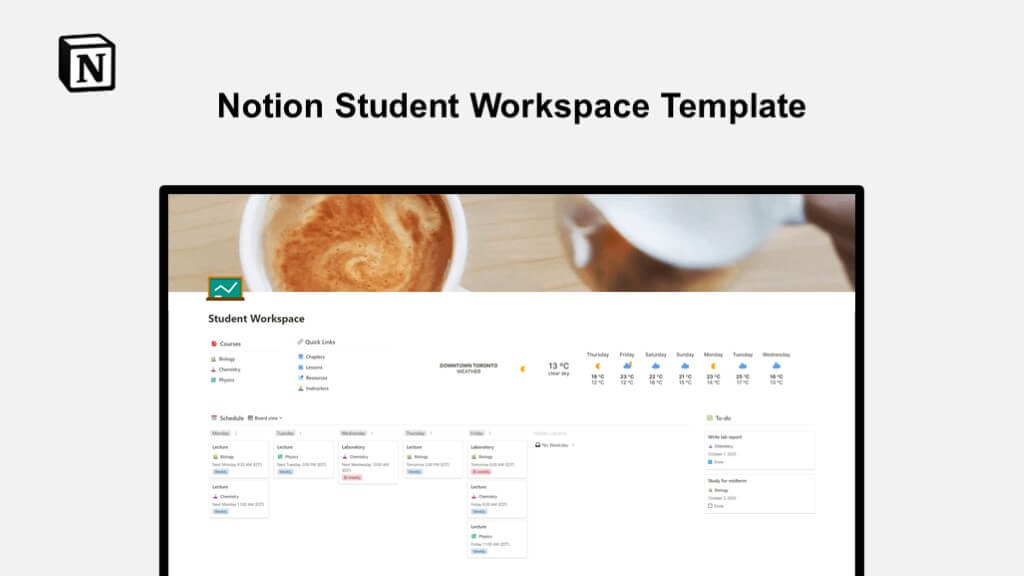 Notion Student Workspace Template, design by Luisa. It contains 5 unique databases to track your life.
Schedule – Based on the Recurring Events & Tasks template, this database will keep track of every school-related event. It is particularly useful for events that are recurring such as lectures, midterms, seminars, etc. The frequencies supported include Daily, Weekly, Bi-weekly, and Monthly. If you'd prefer an event to not be recurrent, then simply leave the Frequency property blank. Note: The Weekday property is only used for the Board View, so you can remove it if you prefer other types of displays.
To-do list– Your list of pending tasks, of course. Aside from being linked to your courses, you will also be able to have sub-tasks and super-tasks in here.
Instructors – In this database you can keep track of yours instructor's e-mail address, office, faculty, and other courses they may be teaching.
Resources – A collection of resources provided by your instructor or that you may have found on your own. These can also be linked to one or more courses.
Courses – The courses table is where everything comes together. All pages above are connected to a course.
# Notion Planners Template for students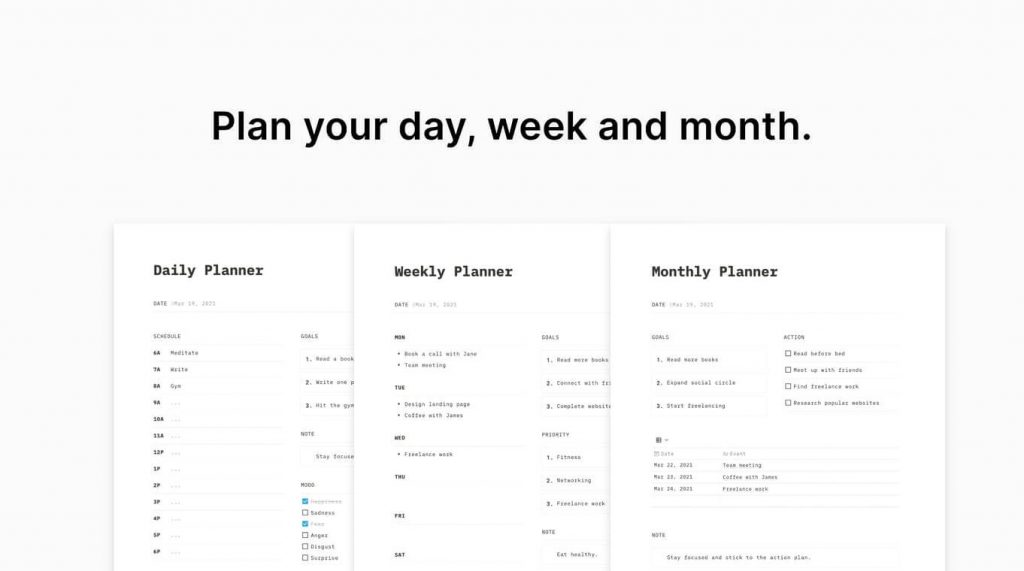 Notion Planners Template for students is a simple Notion template to manage your plan, it can help you to make daily plans, weekly plans, and monthly plans.
Every plan template contains a schedule, to-do, goals, mood, and notes. it can help you make a to-do list, manage your goals, record your mood and interesting things or memories.
# Notion Skincare Template for school girls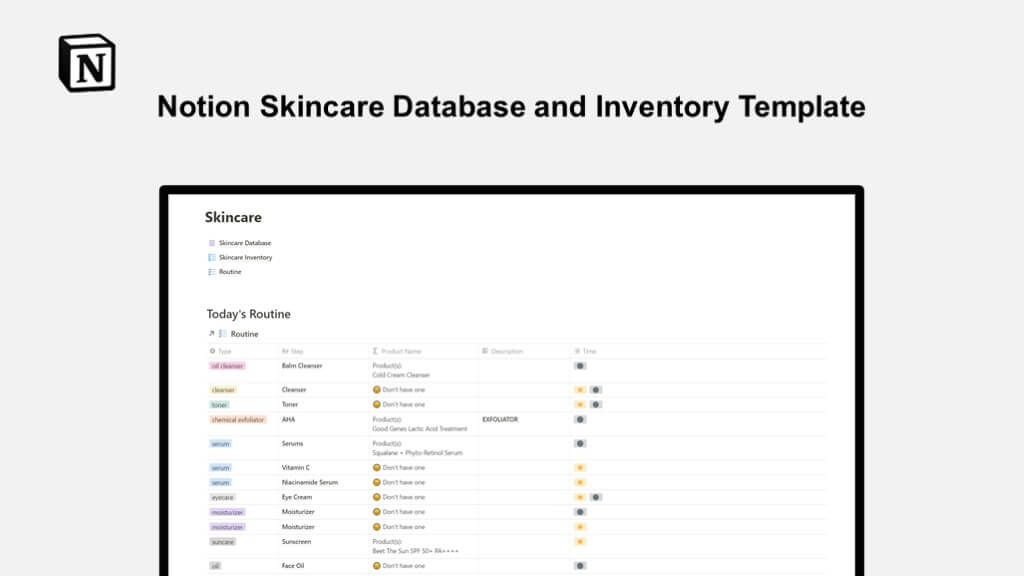 Notion Skincare Database and Inventory Template for school girls, design by Luisa. When you started collecting more and more products, it became quite overwhelming to keep track of all of them — so she created this Notion skincare template. While this one if particular is for skincare, it could be adapted for other uses (e.g. makeup)
Skincare Database – I consider this to be the "master" database, containing products that I own, that I plan on owning, or that I have something to say about. Here, I would track the constant information for each product, such as: type, brand, expiration (months), cost.
Skincare Inventory – This database is only for products that I own — ideally, there is one entry for each one. This means that if I own two of one type of product, it should be entered in twice; otherwise, it wouldn't be very useful in calculating the expiration date for each. Note that not all of the fields are entered manually; most is actually pulled from the master skincare database.
Routine – A good skincare routine should monitor exfoliation, masking, retinols, etc. to make sure none of it is overdone. This database gets its data from the skincare inventory and is assigned to a step in the routine, for which you can select day/night or the weekday to be done on. If there is no product selected for a particular step, it will say so as: "Don't have one"
# Notion Course Planning Template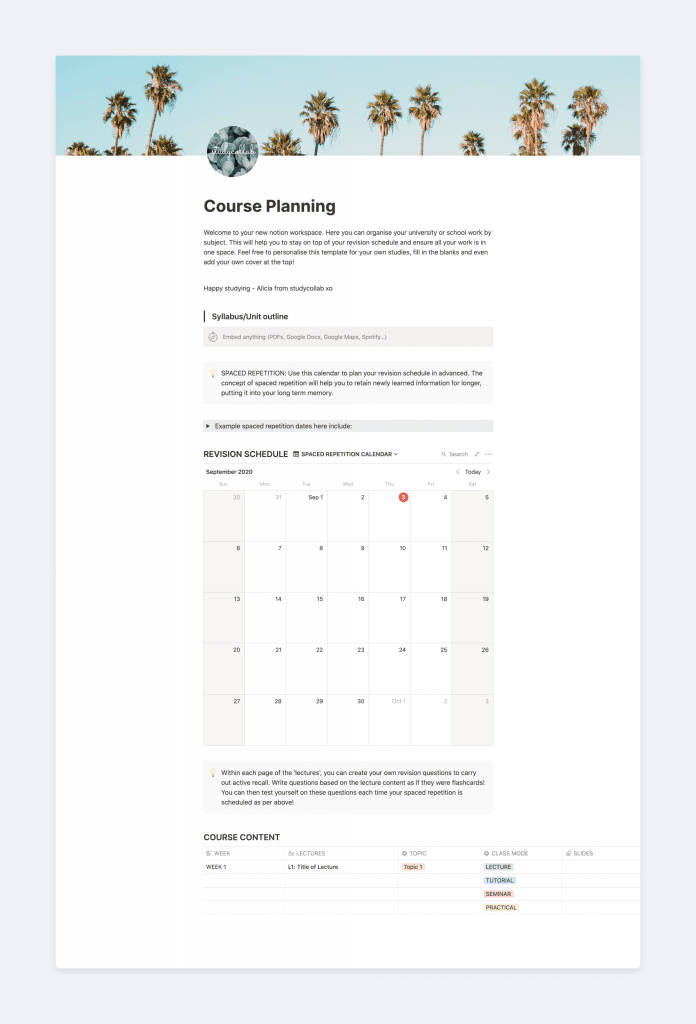 Notion Course Planning Template. With this template, you can organize your university or school work by subject. This will help you to stay on top of your revision schedule and ensure all your work is in one space. You can personalize this template for your own studies, and fill in the blanks.
# StudyOS Class Notes Template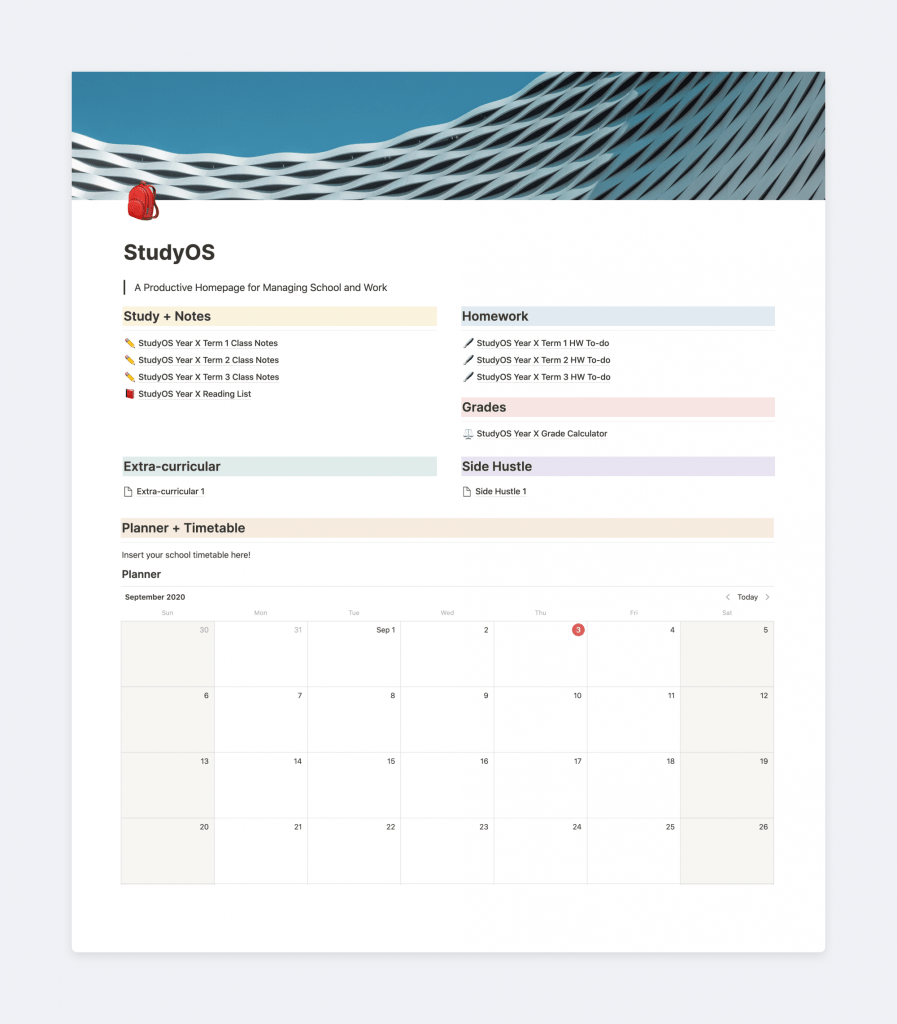 StudyOS Class Notes Template is a custom Notion template that aims to be the most customizable and efficient study suite for students. Inspired by Thomas Frank's Notion template, StudyOS aims to have a simpler interface and more student-focused settings. On the homepage, you will find individual sections for notes, homework, grades, planners, and even activities outside of school.
# Notion Reading List Template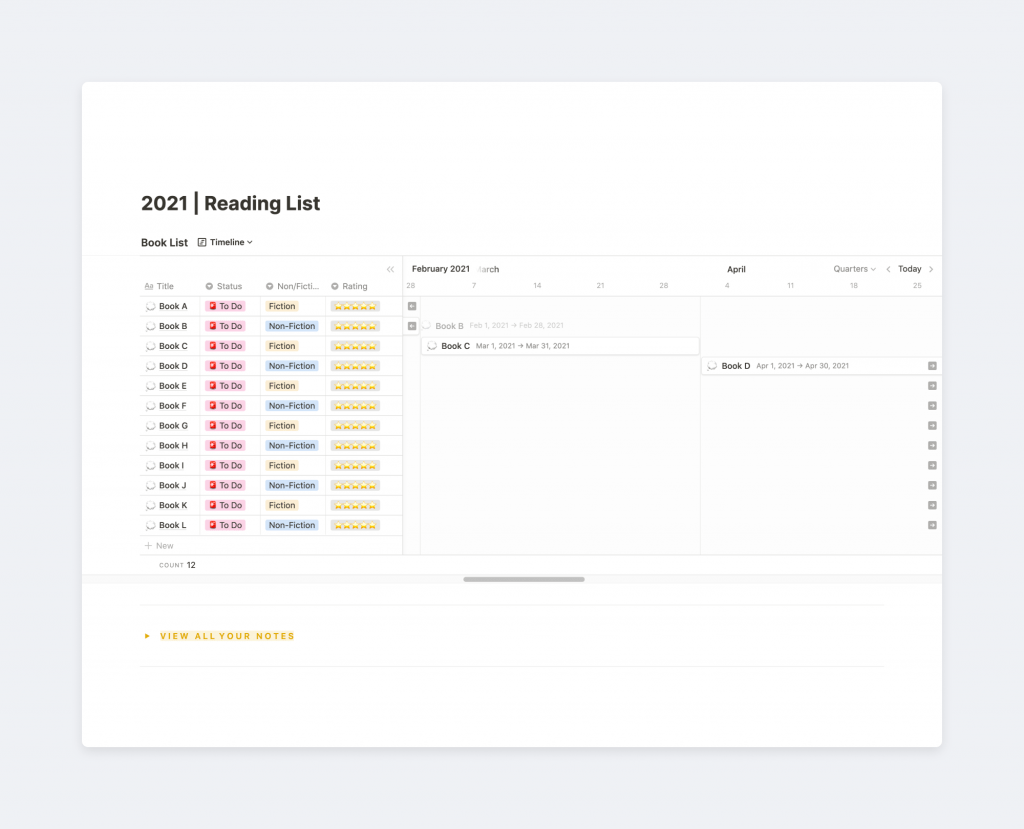 Use this template to plan out the books you'd like to read in 2021. Switch between timeline, gallery, and table view. By clicking into each page, you can make notes on each book as you read!
# Thesis writing template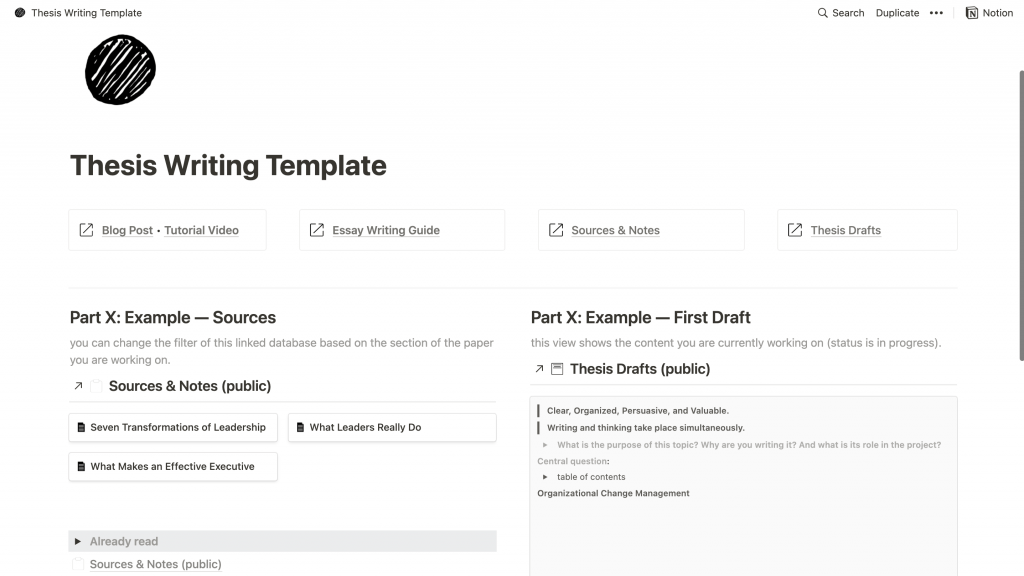 Writing a thesis is a complex endeavor that you will need to boldly face at some point in your life if you decide to pursue higher education. This template can help you to build a Notion thesis writing system and workflow.
# Resume Template for Graduates
Resume Template for Graduates is a living digital profile and resume. Includes a brief summary, personality and work style, professional ethos, resume bot, social accounts, education, interests, and quotes.
#Notion Resume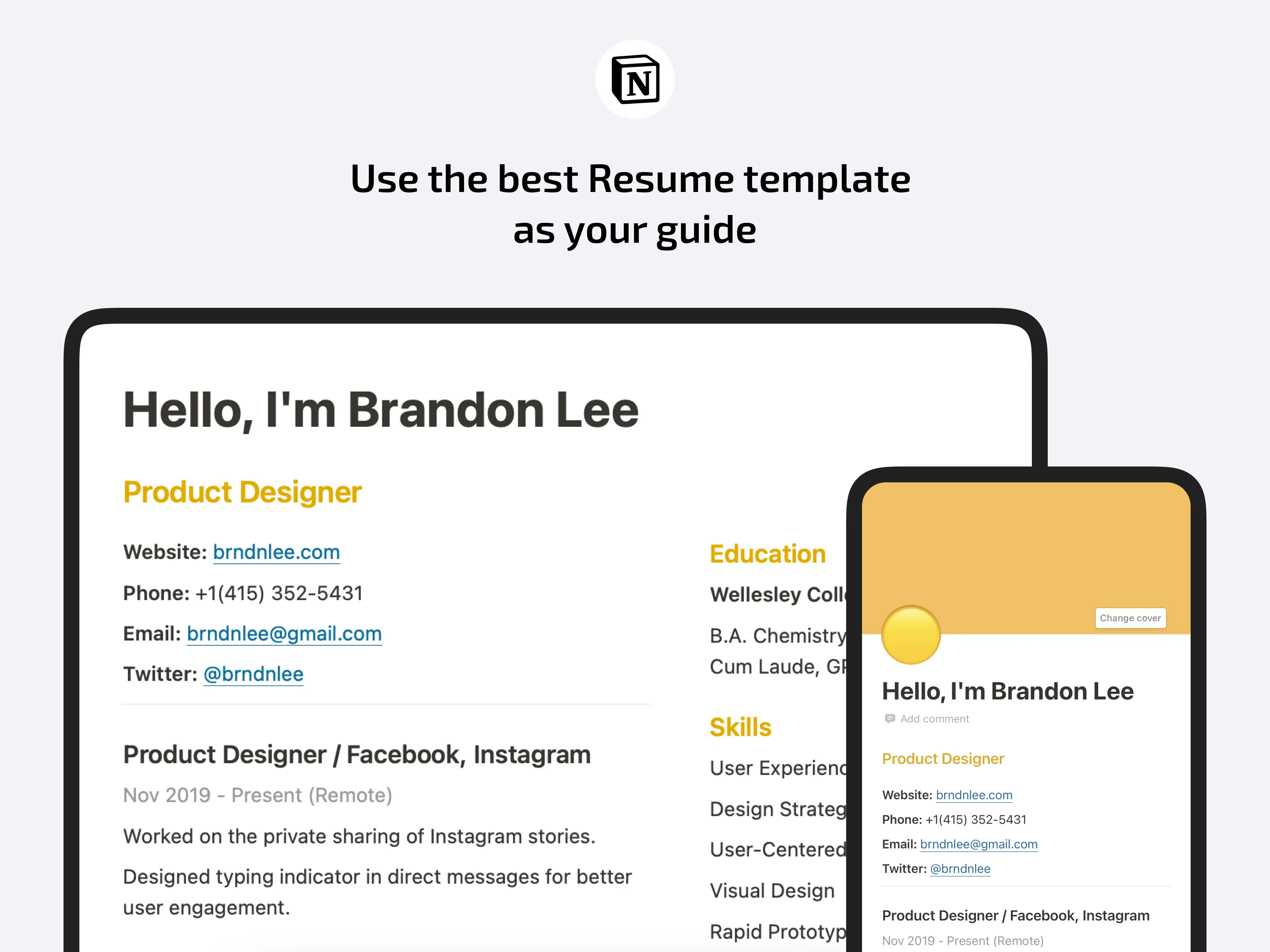 Use the best Resume template as your guide!
Create a perfect resume for the modern job market with my new Notion Resume Template. Easy to use and done within minutes – try now for free!
# Notion for Students: Minimal Class Schedule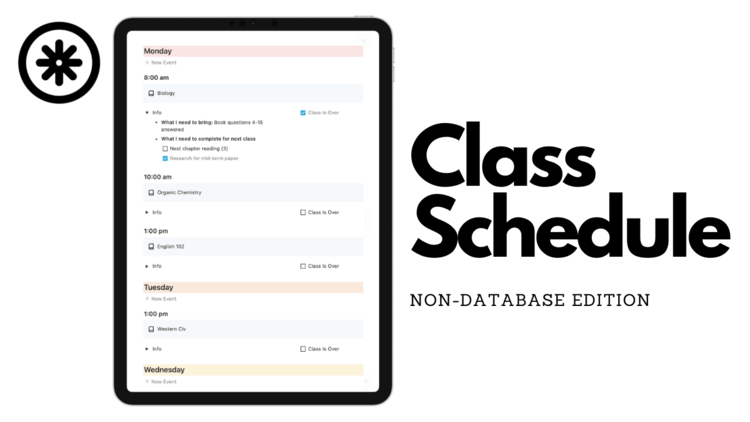 Display your class schedule with this sleek Notion template. Included is a non-database class schedule and to-do list design. Every new event comes with Time, Name of Class, Reminders, To-Do list, and Checkbox when class is complete for the assigned time block. Here's how it works.
# Notion School Life Dashboard Template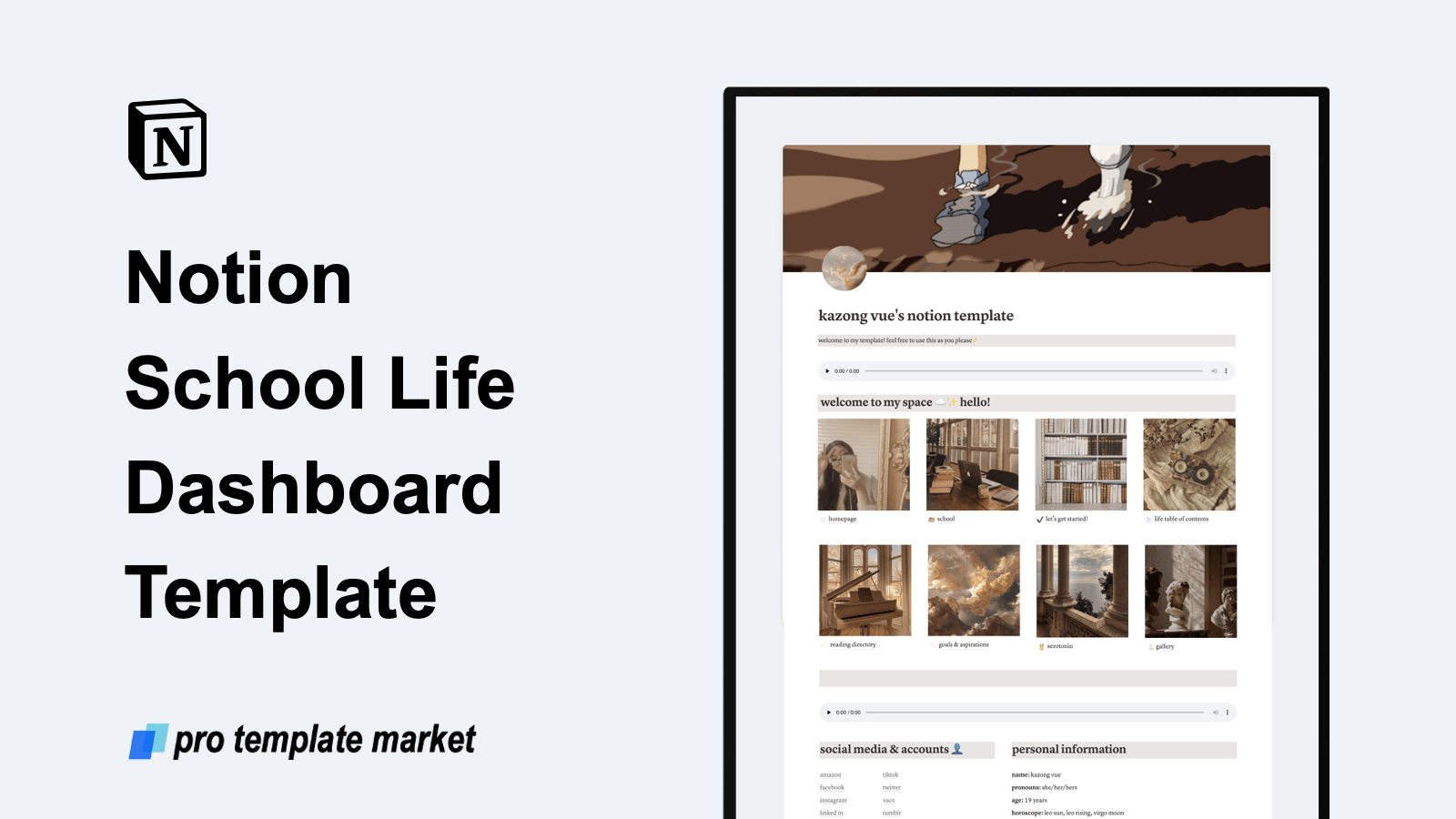 This template is ideal for current college/high school students interested in organizing their academics, personal interests, and favorite things all in one place!
# Notion Student Template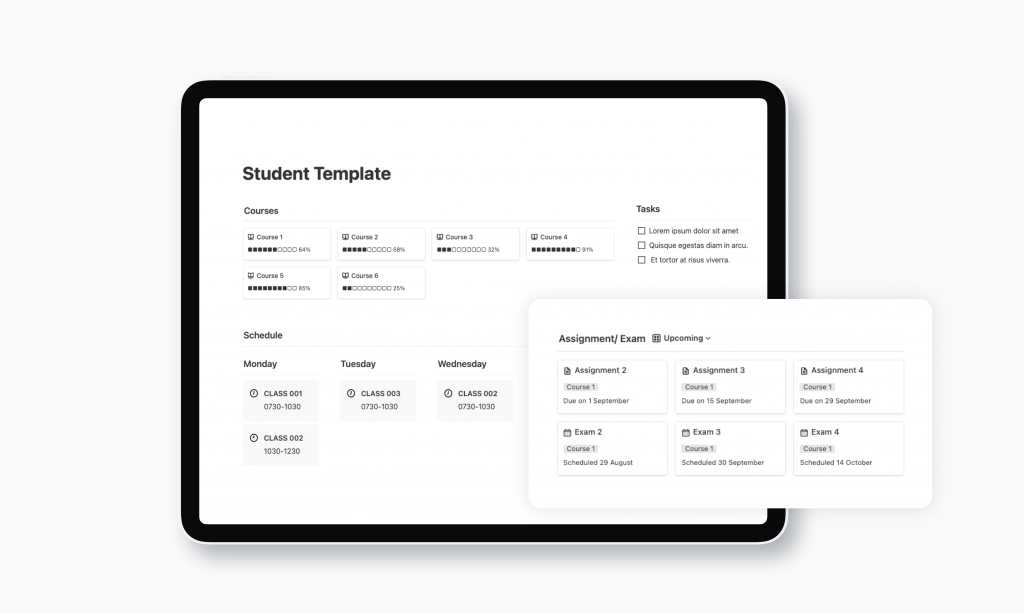 Use this Notion Student Template to keep track of your class schedule, notes, assignments and exams. It consists of 9 useful tracker tools for a college student:
Course Progress
Lecture Notes
Learning Objectives
Grade Calculator
Tasks List
Class Schedule
Assignment/ Exam Tracking
Assignment/ Exam Calendar
Event Countdown
# Notion School Dashboard Template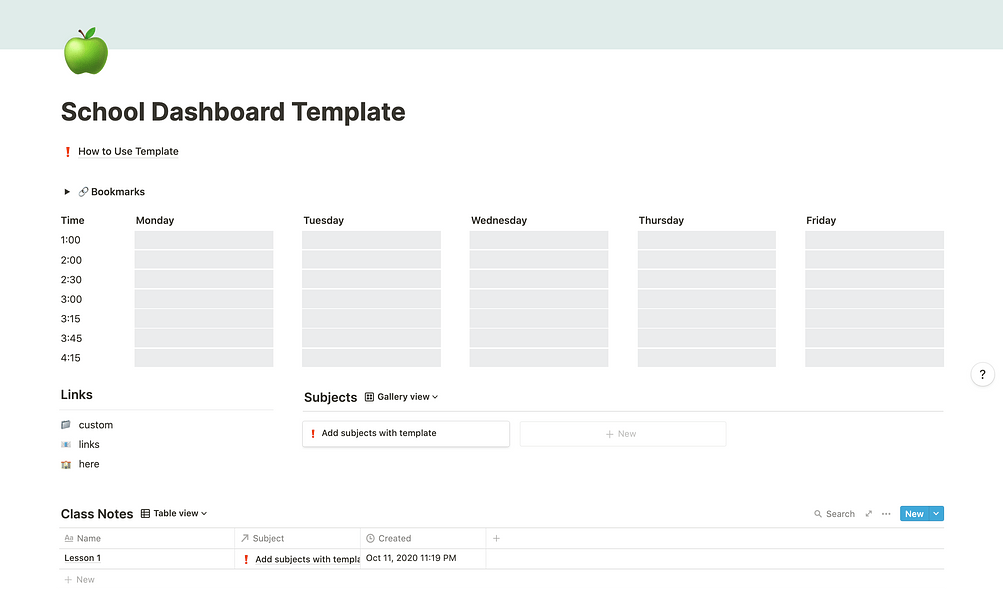 This customizable Notion template is designed for your online classes, whether it be for university, college, or high school! It is complete with a class schedule, notes database, and directory to keep everything all in one place.
# Notion Freelance Projects Manager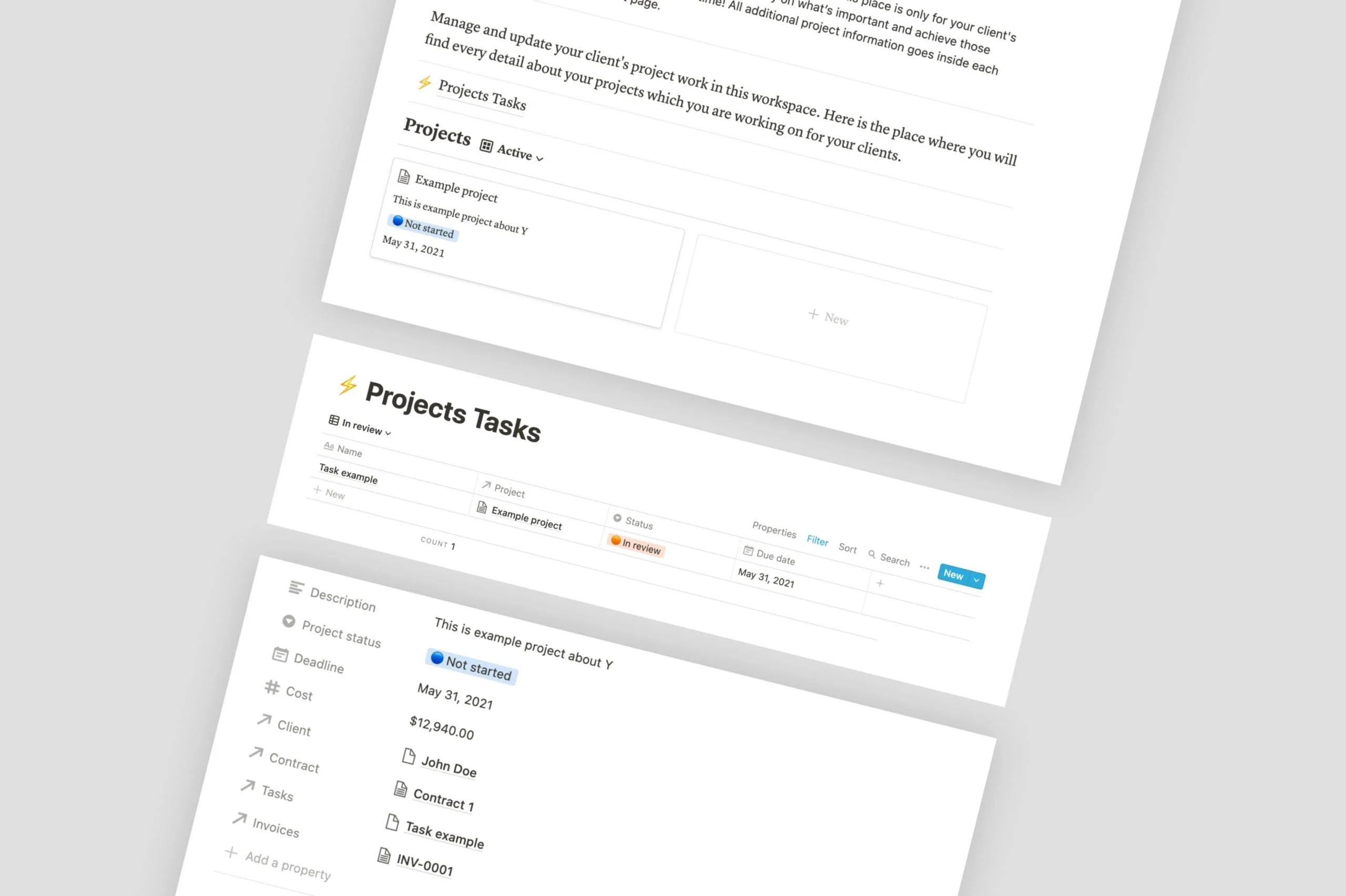 Manage your freelance projects with Notion!
This free Notion template will help you manage your freelance projects and tasks. Workspace is made for every type of freelancer.
What's inside?
Project tasks
All project's tasks list
Project management and sorting
Project documentation
Projects assets example
Project meeting notes
Project scope of work example
Project brief example
Project hand-off example
Related Post: 5 Best Free Notion Habit Tracker Template 2021
How to use a Notion Template?
How to use a Notion Template? a step-to-step guide.
Total Time: 3 minutes
open a template page

The URL will begin with https://www.notion.so/**

Click Duplicate to copy it to your workspace

Click Duplicate

Log in

Type your Notion account
What are your thoughts on Notion Template and how are you using it?
Share them below.☺️